Use the search filters below to find a provider.
To view all providers, just click search.
Showing all providers.
Lone Star Circle of Care (LSCC)
Provider Type:
Health Care
Address:
205 East University Avenue Georgetown Texas, 78626
Primary Phone:
877-800-5722
Secondary Phone:
512-341-8908
Lone Star Circle of Care is committed to the pursuit of community-wide access to a behaviorally enhanced, patient-centered health care home that provides accountable care for all patients, focusing on the underserved.
A New Entry
Provider Type:
Crisis Outreach Services
Address:
500 E 7th street Austin Texas, 78701
Primary Phone:
512-524-8982
Secondary Phone:
512-260-1385
A New Entry is committed to promoting the motivation, capacity and opportunity of individuals desiring a successful community reentry from incarceration, treatment and homelessness. The agency supports individuals with education, resources, case management and recovery supportive housing. Our staff works hand-in-hand with participants to ensure they have access to the relational systems they need to gain and maintain hope which leads to employment, housing, self-care and the strengthening of families.
ABODE Treatment Inc.
Provider Type:
Addiction Support, Health Care, Residential, Substance Abuse
Address:
701 S Cherry Lane Fort Worth Texas, 76108
Primary Phone:
817-886-4579
For more than 12 years ABODE Treatment, Inc. has been providing:
· Intensive Residential and Residential
· Cognitive Therapy
· 12-Step Primary Disease Model
· Relapse Prevention
· Individual and Group Therapy
· Modern Accommodations
Al-Anon/Alateen
Provider Type:
Family Support, Substance Abuse
Primary Phone:
757-563-1600
For over 55 years, Al-Anon (which includes Alateen for younger members) has been offering strength and hope for friends and families of problem drinkers. It is estimated that each alcoholic affects the lives of at least four other people… alcoholism is truly a family disease. No matter what relationship you have with an alcoholic, whether they are still drinking or not, all who have been affected by someone else?s drinking can find solutions that lead to serenity in the Al-Anon/Alateen fellowship.
Alcoholics Anonymous
Provider Type:
Addiction Support, Substance Abuse
Alcoholics Anonymous is a fellowship of men and women who share their experience, strength and hope with each other that they may solve their common problem and help others to recover from alcoholism. The only requirement for membership is a desire to stop drinking. There are no dues or fees for AA membership; we are self-supporting through our own contributions. AA is not allied with any sect, denomination, politics, organization or institution; does not wish to engage in any controversy, neither endorses nor opposes any causes. Our primary purpose is to stay sober and help other alcoholics to achieve sobriety.
Alpha Home
Provider Type:
Education Support Services, Residential, Substance Abuse
Address:
300 E Mulberry Avenue San Antonio Texas, 78212
Primary Phone:
210.735.3822
At Alpha Home, our goal is to provide women with an affordable safe haven where they can identify and overcome the core issues underlying their chemical addictions, regain their independence, and rejoin their communities as healthy, whole women.
Alpha Home has forty-seven beds available for inpatient treatment: 31 beds at our Mulberry location and 16 beds at our Camden location. Both residential homes operate under 24-hour supervision by a professionally trained staff member.
Intensive Residential Program requires a minimum of 20 hours per week of treatment services for approximately 30 days. Clients live on-site while being closely supervised.
Supportive Residential Program requires at least ten hours per week of treatment services for about 60 days. Clients live on-site and may work or attend school off-premises during the day. Evenings are dedicated to treatment activities at the residence.
Austin Community College
Provider Type:
Education Services, Faith Based Providers, Substance Abuse
Address:
3401 Webberville Road STE P-108 Austin Texas, 78702
Primary Phone:
512-223-5106
Austin Love Ministeries
Provider Type:
Faith Based Providers
Address:
4402 S. Congress, Ste. 201 Austin Texas, 78745
Primary Phone:
512-292-9006
Secondary Phone:
512-922-0576
Austin Love Ministries' mission is to teach the Word of God in an easy to understand way so that people of all cultures, ages, and backgrounds can come to the full knowledge of Christ. Our prayer is to reach the lost with the Gospel of Jesus Christ and to lead the lost into His kingdom to worship Him. Austin Love Ministries serves the Austin area, and it is our privilege to preach and teach the Good News of the Gospel to a multi-racial, multi-cultural congregation. God's salvation is for everyone!
Austin Recovery
Provider Type:
Detox, Residential, Substance Abuse
Address:
8402 Cross Park Drive Austin Texas, 78754
Primary Phone:
512-697-8600
Secondary Phone:
800-373-2081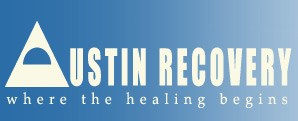 Austin Recovery provides effective and compassionate chemical dependency treatment at very affordable rates. Our Transformational Treatment Model aims to bring about the in depth cognitive, behavioral and spiritual changes that are essential for overcoming addiction. Our model uses research based treatment practices that enhance traditional 12 step models in a loving and supportive environment.
Our fully licensed detoxification unit operates under the guidance and direction of a Board-Certified Addictionologist. Clients receive around-the-clock nursing care while safely withdrawing from all mood-altering chemicals. In addition to our licensed nursing team, trained counselors provide needed information on addiction and recovery. Motivational interviewing encourages all clients to seek the appropriate level of follow-up care. Detox is required for fewer than half of the clients entering Austin Recovery. Most of those clients stay in detox an average of five to seven days.
Austin Travis County Integral Care
Provider Type:
Detox, Substance Abuse
Address:
56 East Avenue Austin Texas, 78701
Primary Phone:
512-472-HELP (4357)
Ambulatory Detoxification Program
Outpatient detoxification services are provided to adults addicted to alcohol or opiates. Medical supervision is combined with counseling, education on addictions and relapse prevention. Extensive referrals are made to agency and community resources for ongoing treatment and recovery services.
Who is Eligible?
Adults 18 years and older who want assistance with detoxification from alcohol or opiates.